OVS Alumna to Compete in Olympic Games
July 25, 2012
By Tracy Wilson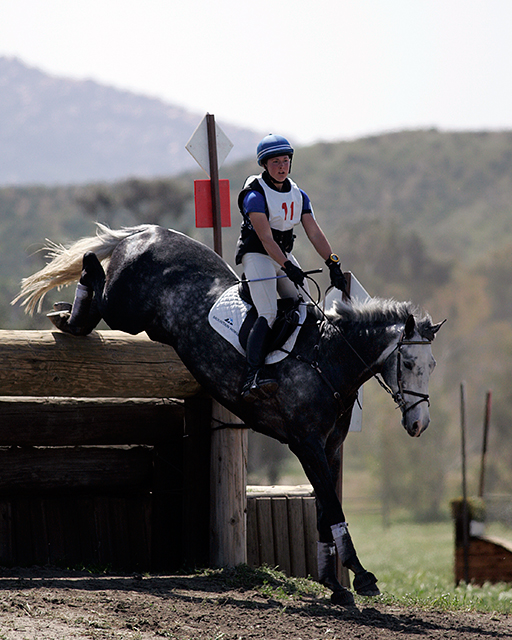 In the coming days, world-class equestrian and OVS alumna Tiana Coudray will fulfill a lifelong dream as she and her horse, Ringwood Magister, compete in the 2012 Olympics in London as members of the U.S. Eventing Team.
The Olympic competition in eventing, which includes the disciplines of dressage, cross country, and stadium jumping, will be held over four days on July 28, 29, 30 and 31 in Greenwich Park, London's oldest royal park.
At 23, Coudray, an Ojai resident who first learned to ride at Ojai Valley School, is the youngest member of the eventing team. She began riding in the third grade at OVS, honed her skills on various horses through middle and high school, and now rides for the highest prize in world sports on a talented steel-gray Irish Sport Horse, who goes by the nickname "Finn" and has been her partner for the past several years.
"To go to the Olympics is something that I've been imagining for as long as I can remember, but to realize that dream is beyond words," Coudray wrote in a recent email to OVS President Michael J. Hall-Mounsey. "I am excited, nervous, and still in disbelief, but the outpouring of support from friends old and new has been so encouraging."
Former OVS Equestrian Director Terry Wilson, who taught Coudray from elementary to high school, said she knew Coudray would make the Olympics some day. She just didn't expect it to happen so soon.
"It is amazing that she is so young and at this point," Wilson said. "But she is so determined, and she is such a competitor – and she's so hard working."
Coudray developed her competitive skills as a top Irish dancer before turning her focus to eventing as a teenager. Wilson recalled how Coudray would enter every clinic, and work with every top instructor she could find to hone her skills as a rider. "There was no stopping her," she said.
Coudray's talent as a young rider was evident when she won Team Gold at the North American Young Riders Championships in both 2004 and 2008, and she took home the Individual Silver Medal in 2004. She has won the United States Eventing Association Young Rider of the Year Award three times – in 2005, 2007, and 2009.
Since then, Coudray and Finn have been working toward an Olympic moment. It has been a difficult journey, with ups and down not unlike the demanding cross country courses they have galloped across in recent years.
After being named to the short list for the U.S. team in June, Coudray wrote on her website that it was a privilege and a "huge relief" to have come so far.
"Making the short list was a big split in the road," she said. "Had we ended up on the other fork, this ride would be over for another 4 years. After all the ups, downs, twists and turns of the last months, as well as years, it is incredibly exciting to still be hanging on to this crazy little dream, to ride at the Olympics. From the time I first had Finn as a youngster, I can remember saying that if things went our way, he could get me to London. "
To follow Coudray's individual Olympic debut, and the U.S. Eventing Team, visit www.nbcolympics.com/equestrian.Photo credit: Photos from the Associated Press and tianacoudrayeventing.com.